Meet Angie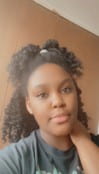 Hometown:
Cleveland, OH
Start year at Ohio State and major:
Fall of 2020; Biomedical Engineering
What motivated you to go to college?
I always knew that I wanted to make a career for myself. If I'm being honest, the only way for me to achieve the job that I want is to pursue higher education and earn a degree. I also attended a high school where the curriculum was made to prepare students like me for college, so I always had that extra boost of support.
Best takeaway from your participation in Buckeyes First Scholars Program?
This program made me feel worthy enough to do better despite going through a pandemic and helped me be optimistic. Another takeaway from this year is I now know I'm not alone in trying to find my way through this college journey, and doing things virtually isn't all that bad.
How has your first-gen identity helped you find success during your college journey?
My first-gen identity has helped me succeed by empowering me to go harder for what I want. Being a first-gen student has humbled me and allowed me to realize that I can be a leader and set an example of what it means to overcome hardships. I use my first-gen identity as fuel to keep going even when things get challenging.
What would you tell your freshman self?
I would tell my freshman self that she did a great job and got a lot accomplished in just one year. My freshman self would know that she can conquer anything as long as she puts her mind to it — because not only did I successfully finish my first year of college, but I managed to do it while the world was changing around me due to covid-19. I would remind my freshman self just how impressive she is.
What has been the best thing about your college experience?
Being able to get a higher education while knowing that I don't have to worry too much about student tuition because I worked hard to make sure expenses were covered. Not only that, but I also found a good support system in my BFSP community that will provide me resources to accomplish whatever it is I need to get done.
Where do you see yourself in five years, personally and/or professionally?
In five years I see myself in the corporate world with my career in STEM helping others one step at a time through technology. Five years from now I see myself taking advantage of every single opportunity that comes my way and benefits my profession. Personally, I see myself maturing into the woman that I work hard to be every day and settling into what makes my life complete.